Goodwill is opening a D.C. charter school to help adults get a high school diploma
By Perry Stein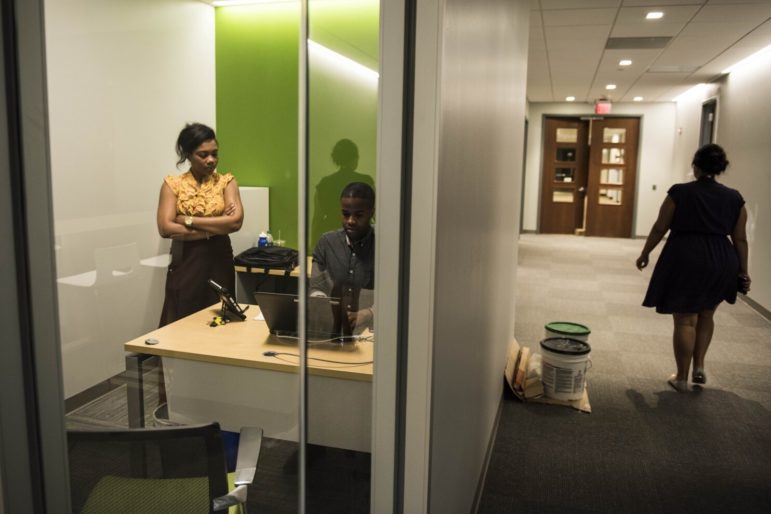 Dovette Little has always wanted to be a lawyer. As a high school student in Southeast Washington, she enrolled in a specialized program to become a court stenographer so she could learn the ins and outs of a courtroom. But at the time, she says, school wasn't for her, and she dropped out and landed a job at a Capitol Hill cafe her sophomore year.
Now a 49-year-old mother of five, she just made her first move toward earning that law degree: She plans to enroll in the Goodwill Excel Center — a D.C. adult public charter high school slated to open in Foggy Bottom in August with 325 students.
"All of my kids have their high school diploma except me, so I'm going to get mine," said Little, who has overcome substance abuse and homelessness. "I want to be a lawyer. That is my dream job."
Goodwill Industries, the national nonprofit agency best known for selling used clothes and furniture, is opening its first charter school specializing in adult education in the District during the coming academic year.
Graduates of the accelerated, two-year program will earn Industry Recognized Credentials and a full high school diploma instead of a General Educational Development (GED) equivalency degree. This will be the first adult education charter school in Washington where graduates earn high school diplomas.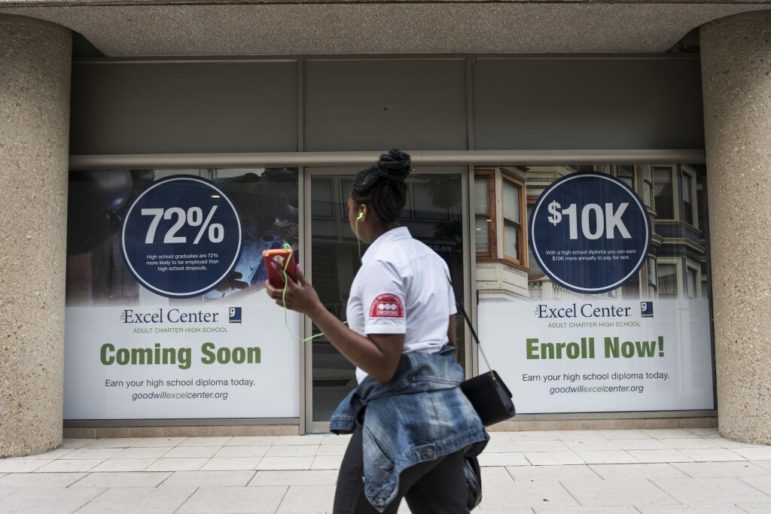 [These students wanted an education when D.C. was the nation's murder capital.]
Goodwill has similar schools in Indianapolis, Austin and Memphis and hails the schools as successes; Goodwill says that 75 percent of the students graduate with jobs lined up or immediately go to college. High-school-age students who have graduated ­from middle school are also permitted to enroll.
"Different students want to graduate high school in different ways," said Scott Pearson, executive director of the D.C. Public Charter School Board. "This program will meet the needs of some of those students and will allow them to gain a high school diploma when they otherwise would have dropped out."
Regional executives at Goodwill say the idea for the D.C. school came after the nonprofit agency spearheaded the training and hiring efforts for the District's new Marriott Marquis in 2013. More than 2,000 people applied for jobs there, but a good portion of the applicants didn't qualify because they lacked high school diplomas, according to Colleen Paletta, vice president of workforce development for Goodwill of Greater Washington. Even more applicants couldn't pass the required reading and math tests.
In Washington, about 63,000 adults do not have high school diplomas, or a little less than 10 percent of the population. "That skills gap became very real for us," Paletta said. "We started thinking: What can and should we be doing to better help our community?"
[Graduation rates up in D.C. public schools, down for charter schools. ]
Goodwill Industries successfully submitted an application to the charter school board and transformed basement office space in Foggy Bottom into 12 classrooms with smartboards, a computer lab and common space. There's also a YMCA-run child-development center on site, where students can drop off their children for free while they attend classes.
During the past few months, the school's staff of 22 has recruited more than 1,300 potential students to apply, finding them in homeless shelters and contacting local nonprofit groups and government agencies to determine who would best be served by the program. Some of the students will be residents awaiting trial for alleged crimes; others might be former violent offenders. Students will range in age from teenagers to adults in their 60s, with most in their 20s and 30s.
Seventy-five percent of attendees this fall will be women, and 70 percent reside in Wards 7 and 8 — the city's poorest wards.
"Sometimes people need a second chance, but the reality is that sometimes people need a third, fourth and 10th chance," said Amina Brown, the director at the Goodwill Excel Center. "We want to be that for our students."
Briona Graham, 24, learned about the school while she was shopping at a Goodwill store in Northeast. She told her mother, Tammie, about it, and now they both plan to attend the school in the fall. Tammie Graham, 46, said she was diagnosed with an autoimmune disease as a child, and when she became pregnant her sophomore year of high school in the District, she had to drop out. She has 10 children — most of whom are now adults — and says now is her time to go back to school.
"I want to go to college and be a social worker," Graham said. "I've always been told by people that I'm a very good motivational speaker and I'm very helpful."
The Goodwill Excel Center will be a year-round school divided into five eight-week sessions. Most students will attend every day from 9 a.m. to 4 p.m. Students will enter the school with different amounts of credits, so when someone graduates at the end of an eight-week period, new students can enroll, no matter the time of the year. The school will follow the Common Core curriculum, and students are required to take the same standardized tests as all other D.C. high school students.
Each student will be assigned a social worker or counselor, who will help them get to graduation and develop a plan for work or higher education.
School leaders said they decided to locate the school in the downtown area so students could be exposed to environments outside their own neighborhoods and envision their futures in an office building.
"I should have done it years ago," Graham said of going back to school. "I consider myself a young woman that's striving to do better. I got a whole lot of life left in me. There's a lot of things that I want to do, but I have to get a high school diploma first."